The 2nd Junior High school of Drapetsona geographically belongs to the Municipality of Drapetsona. Drapetsona, is a traditionally typical town of workmen, built next to the entrance of the Port of Piraeus. It has also been the shelter for refugees and emigrants, as well as for political and economic immigrants.
Since the beginning of the 20th century, cement and fertilizer factories as well as tanneries used to employ the majority of the region's population, including the refugees.
Nowadays, the constitution of the region's population has changed: the factories have been shut down, the unemployment has dramatically risen and the area has collected a large number of emigrants, mostly hailing from Eastern Europe. The human scenery of this town is completed with the existence of the Muslim community.
Our school, therefore, is attended by students who are disadvantaged due to socio-economic or other reasons. Most of the children come to school seeking for the unique chance – perhaps – for a better future. On the other hand, the school has to cover, apart from the students' needs for knowledge, deficiencies in the social enrolment and civilized assimilation. In addition, the school has to stand by the students emotionally and to develop a living concern for some of them.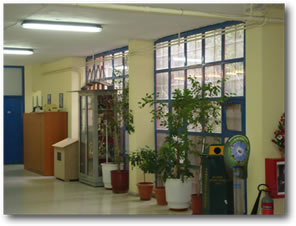 Despite these contradictory conditions, which would condemn the school community of the 2nd Junior High school of Drapetsona to abstain, it has to show an enviable action. So, the school community in cooperation with the students, their parents, the local authorities and sometimes the state authorities and institutions has been participating for years in cultural and environmental projects, sport games, scientific and artistic competitions and projects for equality and in publishing magazines and newspapers.
The students' contribution and their frequent distinctions on the above mentioned activities strengthen their will to learn and make progress, enlarge their education and develop their social bonds.