The "Gelasio Caetani" school (secondary education) was founded about 100 years ago and it is located in Prati, a downtown quarter in Rome characterised by a background of commercial activities and businesses as well as important public services, for instance courts of justice.
An old inscription with the name of the school can still be read on top of the longer side of the school building.
Being located at a short distance from St Peter's, the Vatican, the courts, the RAI (radio–tv headquarters) and the shopping district the quarter has acquired a cosmopolitan atmosphere. Furthermore, due to the school accessibility from different urban, suburban and even rural areas around north western rome, the student population comes from an extremely wide range of social, economic and cultural backgrounds.
Despite its old age, the school has an info-tech lab, a language lab and a science lab, which have been recently reniewed and refurbished.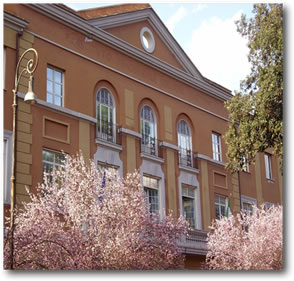 The "G. Caetani" branch is a recent establishment. It has been operating since school year 2009-10 and it is situated near Ponte Milvio, a historical bridge in Rome.
The students attending the branch are allowed to use the sports facilities of the "Olympic Stadium", a prestigious, historical sports centre established in the 1920's and working since then.