1. Year of Establishment:

1868

2. Number of Teachers:

65 teachers

3. Number of Attending Personnel:

20 persons

4. Number of Students:

1028 students

5. Major Subjects Covered:
The basic general subjects taught at school are in accordance with the curriculum for the respective educational level- primary and secondary levels. The syllabus is approved by the Ministry of Education, Youth and Science. As compulsory subjects are included Bulgarian language and Literature, English, Math, Chemistry, Physics, History, Geography, Sports, Music and Applied Arts. At our school from the 1st grade is implemented a teaching English and 1010 students study it as a first foreign language. The four computer rooms provide an opportunity for attaining proficiency in Information Technologies which have been included in the compulsory and optional syllabus.
The General Secondary School "Christo Botev" has a 142 year history and rich traditions in the educational system. There are 1028 students and 35% of them are from the ethnic minorities. It has included two levels of education- primary level and secondary level in two sessions..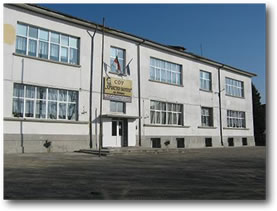 The General Secondary School "Christo Botev" has had a great experience in the regional educational system and it has been with the clear purpose to be up to the contemporary requirements of teaching and training. Sixty –five high qualified teachers have worked in the school. Twenty- two teachers /one third of them/ have a supplementary pedagogical qualification level. Teachers' goals are:
Students' complete inclusion in the classes and attaining proficiency in the school syllabus.
Taking strict preventive measures for students' drop out from school.
Integration of the students from the ethnic minorities in the popular school.
The students at General Secondary School "Christo Botev" have performed in different out school activities- language and sports competitions, Olympiads, International Arts festivals. The school drama workshops, folk dance groups and children's vocal group have given opportunities for our talented students' performances.